Post by dudleyhatter on May 8, 2022 9:57:27 GMT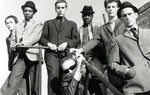 Today it's Royal Mail, but tomorrow it could be YOUR employer. This needs to be stopped.
Of course it does but we've had over 40 years of neo-liberal economics and for many, they know nothing else. The changes in education, employment law, assaults on trades unionism, the attempts at distinguishing the deserving from the undeserving poor, the promotion of the idea that if you have nowt it's your own fault, the use of social division as political policy with the continuation and extending of the so-called culture wars have all been designed to promote the same idea which is that you are nothing other than a unit of production to be exploited by unscrupulous employers whose sole motivation is profit.
There is some potential light at the end of the tunnel. I read this morning that there is emerging evidence to suggest that the more highly educated an individual, the less likely they are to vote Tory. It seems that we can add stupid to the list of personality traits which already include greed and selfishness as those required to vote for this venal, corrupt and dishonest shower of sh*t currently passing itself off as the Government of this country.
As an aside, I heard some Government mouthpiece belly-aching the other day about the so-called "great resignation" as it's now being referred to and how too many people are leaving work leaving their employers short of the skills they need. I've just left manufacturing for reasons I suspect the f***ing clown could never understand if he thought about it for two lifetimes. I left because work no longer offered any satisfaction, because the motivation was drained out of me by managers promoted way beyond their limited abilities who had no regard for the experience, skills and knowledge accumulated from 30 years in aerospace manufacturing gained both as a design engineer and in various quality related functions. I now work 15-16 hours a week stacking shelves at the local Co-op and love it or rather, I love the freedom and time to pursue other interests, including getting a small business off the ground. Not something tossers like Rees-Mogg or Johnson could ever comprehend because hey! Get this, I've got enough, and don't need and more than that. What I do need is quality of life. So f*** them and f*** their "vision" for this country.  
This sounds so much like my life choices too. I know what I need in my life and I have it. My salary here (with thirty years of experience) is less than an NQT earns in the U.K. However what price do you put on living within your means? I spent yesterday exercising on the beach with friends and then walking back home. Later we picked up a takeaway pizza and went to the beach for sunset. Today I am heading back there around two fifteen local time because whatever happens in Wrexham I know I have a great life here. In fact, I put a holding deposit on a flat here this week. My new life was a dream of mine for many years. Now it is a dream come true.
If you can, like North Yorks and myself, escape the rat race hamster wheel and find a way to live on your terms. ¡Hacerlo! (DO IT!)